Important Safety Information
« Click Here
In 2019 we started to use a new Quick-Connector for connecting the 6-Foot Filling Hose to the Pressure Chamber Instruments. The new "Safety Quick Connector" comes with a check valve inside that will not allow pressure to flow through the fitting unless it is properly coupled to another Safety Quick Connector.
This fitting adds another layer of safety when using the Pressure Chamber Instrument or trans-filling nitrogen gas from one cylinder to another.
All of our instruments now come standard with this feature, but we can also retrofit your instrument with this Safety Quick Connector.
If you are trying to figure out which type of connector is on your instrument, look at the pictures below to see a comparison of what they look like: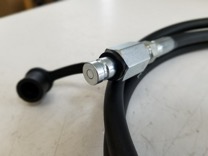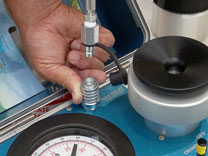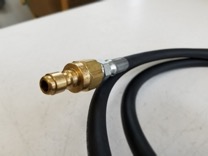 Differences
Main difference between these two fittings is the Safety Quick Connector comes with a check valve in the fitting. Gas cannot flow unless it is properly connected to another Safety Quick Connector.
The Safety Quick Connector offers another level of safety to ensure the operator has properly connected the connection together. Regardless of which connector is used, the operator must always verify the connection has been properly made by gently tugging on the hose to ensure the quick connectors are properly connected.
The Safety Quick Connectors are silver in color and made of steel. The Brass Quick Connectors are yellowish in color and made of brass.
New Instruments
All new instruments now come with the Safety Quick Connectors on all the high pressure connections.
Retrofit Old Brass Quick Connectors to the New Safety Quick Connectors
If you would like to have your instrument refitted with this new feature, you will need to return the instrument to us for retrofit along with the 6-Foot Filling Hose, so we can refit the instrument and the hose to work together. We only offer this retrofit in house so we can ensure proper installation.
6-Foot Filling Hose
If you are in need of a new 6-Foot Filling Hose, please refer to the picture above so we can know which hose to provide you.