Important Safety Information
« Click Here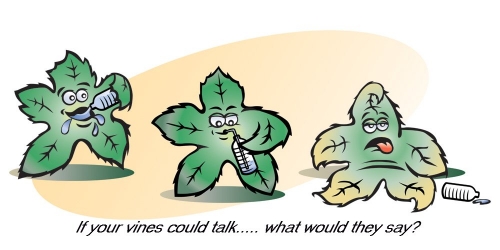 Pressure Chamber (Pressure Bomb) technology has received a lot of interest from the wine industry within the last few years. Although the technology has been around for years, the increased demand for premium wine has forced growers to investigate ways to improve grape quality.One of these methods is regulated deficit irrigation. Deficit irrigation is purposely withholding irrigation and stressing the vine in order to induce favorable physiological changes.
The Pressure Chamber allows you to monitor the stress level in the vine. There are many "shades of grey" between well-irrigated and water-stressed vines. The Pressure Chamber allows you to monitor these shades of grey and stress the vine to a point that is appropriate for your strategy. For instance, when vines are first planted you want to minimize stress levels and keep them irrigated to get them established. However, once established you will want to deficit irrigate to manage canopy growth and also to improve the fruit quality.
Using a plant based monitoring system like the Pressure Chamber, you monitor exactly what the plant is experiencing not just one of the environmental stresses. Plant water stress is a sum of four environmental influences; soil moisture, humidity, wind and direct sunlight or heat load. While most monitoring systems only monitor one of these influences, the Pressure Chamber takes all four into consideration when taking a direct plant based measurement.
For more information check our Links Page and our Reference Page.
If you are just getting started please read the article by Measuring Winegrape Water Status using a Pressure Chamber. Kay Bogart, Consulting Winemaker/ Vineyard Enologist.
If you have never seen a Pressure Chamber operate click here.
To view a picture tutorial using a Pressure Chamber with wine grapes click here. To watch the same tutorial in video:
The above video and tutorial are from PMS Instrument Company. Dr. Alexander D. Levin of Southern Oregon Research and Extension Center of Oregon State University has recently finished an excellent video with a much more comprehensive look at using the Pressure Chamber with wine grapes. It is a two section video shown here:
Scheduling Irrigation with a Pressure Chamber – part 1
Scheduling Irrigation with a Pressure Chamber – part 2
The next question is which instrument works best with grapes. There are two instruments that will work well with grape vines. Each has different qualities that appeal to different growers.
The Model 615 is our newest instrument and is the product of our customers input. The instrument comes fitted in a dust-proof case that has 5 tie-down rings for easy mounting on an ATV (4-Wheeler). The 22 cubic foot tank is removable for quick replacement or can be trans-filled. The instrument comes with a shoulder strap and bail-spring handle for easy transport by hand. The instrument is fitted with our Compression Gland Sealing System which works excellent with grape leaves. A 1/2 Height Volume Reducer will save on nitrogen use.
The Model 600 is also a popular instrument. It does not come with a tank and thus needs the Portable Tank. This durable field unit is normally placed in a plastic box lined with foam or a blanket and strapped to a 4-wheeler when used in vineyard applications. It can also be hand-carried. It is also fitted with the Compression Gland Sealing System. Again, a 1/2 Height Volume Reducer will save you gas in the field. If you have any questions concerning the use of this instrument with wine grapes or any other crop, please contact us directly.