Important Safety Information
« Click Here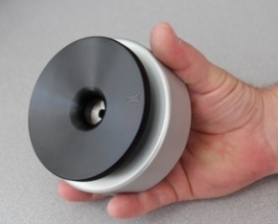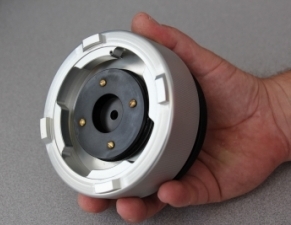 The Compression Gland sealing system is a quick, easy, adjustable sealing system which allows for easy sample introduction and sealing into the chamber lid. This accessory allows for fast and efficient measurement without having to "fit" the sample into a sealing gasket. This is particularly useful with non-rounded stems or when speed and efficiency is important.
The Compression Gland Cover can easily be swapped out for the older Standard Sealing System. In order to switch to a Standard Insert, simply remove Compression Gland Screw by turning it counter clockwise until it is separated from the base. Then, remove the 4 brass screws from the compression base and inspect for damage. Replace as necessary. Place the Standard Insert on the chamber lid and align the 4 holes. Insert 4 brass screws and turn clockwise until hand tight.
The instrument also has four different sized gaskets and inserts available. It is shipped standard with 1/4 inch gasket and insert. However, for some other size samples there is also a 1/8, 3/8 and 1/2 inch size gasket and insert available.. In addition there is now a special insert designed for use with Almond leaves.
The Compression Gland comes standard when ordering Model 600, 610, 615 or 1000. We can also modify an older lid to fit the Compression Gland Cover.
How to seal a sample in the Compression Gland Cover
Maintenance of the Compression Gland Cover